Mike Schneider
Mike Schneider ist Teil der «Maker» Bewegung, die seit 2011 auch in Deutschland mehr und mehr Anhänger findet. Sein Ziel ist es, individuelle Kunstwerke mit eigenen Mitteln und eigenen Entwicklungen zu realisieren. Der Schwerpunkt liegt dabei auf der Interaktion mit dem Betrachter. Neben einigen Realisationen im Bereich Lichtkunst sind viele weitere technische Werke entstanden, die vollkommen neu sind, kommerzielle Lösungen erweitern, oder gar ersetzen. Die Kombination aus aktueller Technik, Interaktion und Kunst begleiten Mike Schneider schon seit Jahren. Diverse Musik-Projekte unter anderem Dub-Produktionen des Producer-Duos BMD und Auftritte mit seiner Band Scaramanga beim Zelt-Musik-Festival Freiburg, gaben ihm die Möglichkeit, Teile seiner Arbeiten und Ideen darin einfliessen zu lassen.
Mike ist Teil des Snow Sculpting Team «Black Forest». Als Mitglied des Teams, war er für eine weltweit einzigartige und erstmalige Lichtinstallation in Kanada zuständig. Die Schneeskulptur wurde dazu mit 2400 intelligenten Lichtquellen ausgestattet. Der Besucher konnte mit der Skulptur über einen Biometrischen Sensor interagieren.
An der Ausstellung «Blautöne» in Weil am Rhein stellte Mike seine Installation «DeinBlau» aus. «DeinBlau» verbindet die Assoziation der Farbe Blau mit Flüssigkeiten und einer in der Flüssigkeit existierenden mikrokosmischen Welt, die dem Betrachter bisher verschlossen blieb. Auch hier war der Betrachter im Mittelpunkt und konnte die virtuelle Flüssigkeit mit seinen Händen manipulieren und sein eigenes Blau entwerfen.
Die aktuelle Installation «hörbild» basiert auf einer Idee die bereits mehr als 20 Jahre existiert. Damals wurde ein Videoclip mit unterschiedlicher Musik untermalt. Das Ergebnis war sehr beeindruckend. Bei einem Gespräch mit Gerhard Hanemann ist dann die Idee entstanden, diese Technik auf ein Gemälde anzuwenden.
Zurzeit arbeitet Mike bereits an einer neuen interaktiven Installation, welche das Thema Licht und Schatten als zentrales Element thematisiert und in 2019 fertiggestellt sein wird.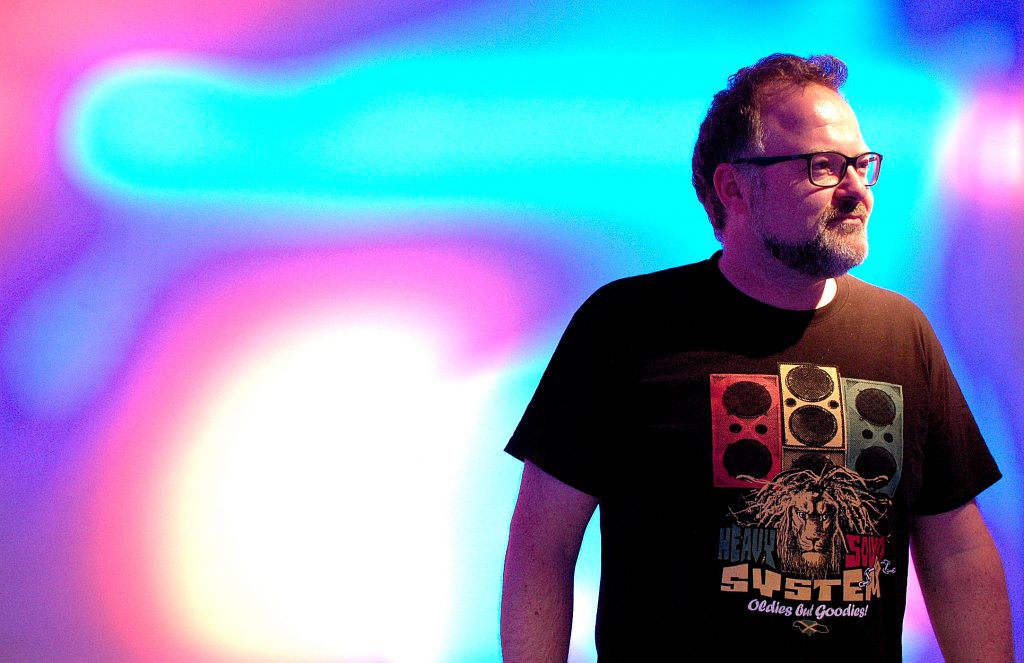 Mike Schneider
As part of the "Maker" community which is since 2011 more and more active in Germany Mike's goal is to develop individual and interactive pieces of art. The emphasize is on the interaction with the observer. Beside realizations in the area of LightArt there are a bunch of other technical "Things" developed which are completely new, extending existing commercial solutions or even replace them.
The combination of technology, interaction and art is part of his "Makes" since years. Several music projects e.g. Dub productions as part of the producer team BMD and concerts with the band dubMoll (aka. scaramanga) gave him the opportunity to present and integrate parts of his work.
Since January 2016 he is member of the German Snow-Sculpting Team "Black Forest". As debut he went to Whitehorse, Canada were he was responsible to equip the sculpture with the worldwide first interactive light installation. The observer was able to interact with the Sculpture using a biometric sensor.
At the exhibition "Blautöne" in Weil am Rhein in 2017 Mike presented his installation "DeinBlau". This interactive installation allowed the observer to manipulate a virtual liquid using his hands. A 3d-Camera detected the movement of the observers hand. More details can be found on deinblau.de
The current installation "hörbild" is on exhibition till February 2019 at the great Gallery of Gerhard Hanemann – kunstdruckwerkstatt.de.
At the moment Mike works on a new installation where Lights and Shadows are the central element and will be finished in 2019 – Stay tuned.