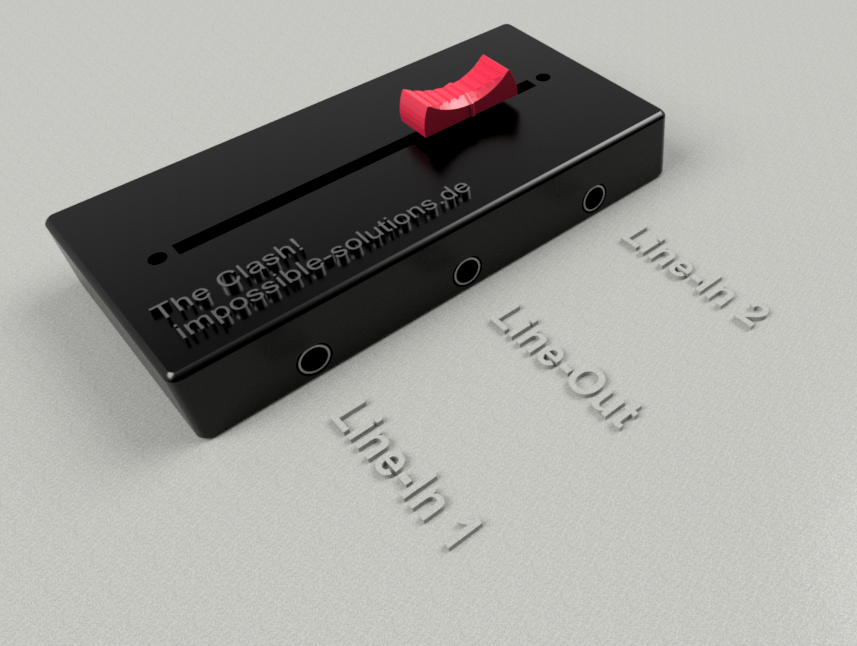 IMPORTANT: Currently the production capacity is exhausted. All upcoming orders are wait-listed. Some devices are available at Urban Record Store. I will built a new batch for Christmas. Thanks for your understanding.
The Clash can be purchased exclusively in Freiburg, Germany at the fabulous "Urban Record Store". Orders via mail are also possible. The Clash is made in Germany, patent pending. Price is €59.00 + shipping.
The Clash is a mobile high-quality handmade, power supply free, cross-fader which allows you to connect two audio sources and blend them. Connect any phone, mp3 player, turn table, instrument to one of the inputs and battle your friends.
Two inputs (Line Level), One output (Line Level), no battery or power supply required ,high precision state of the art ALPS cross fader, three studio quality 3,5mm jacks, reduced to minimum electronics – no interference, no noise, no compromise, 100% handmade, cases are 3D printed to order, so minor deviations are expected and appreciated. Don´t expose to sunlight or high temperatures since the case is printed using 100% bio-degradable material. 12 month warranty on functionality.

The Clash – logo design by Axel Roth – sogehtdes.net
The picture above shows how to connect your Clash to your devices and sound systems. It is quite easy to do so, in fact there are only three audio jacks available. The outer ones are to connect devices like mobile phones, tablets, CD Player, Tape Decks, personal assistance like Alexa or Siri, your PC etc. Basically any device which outputs an audio line level is a good source. The middle audio jack is the output of The Clash. Connect your stereo or sound system and you are ready to clash.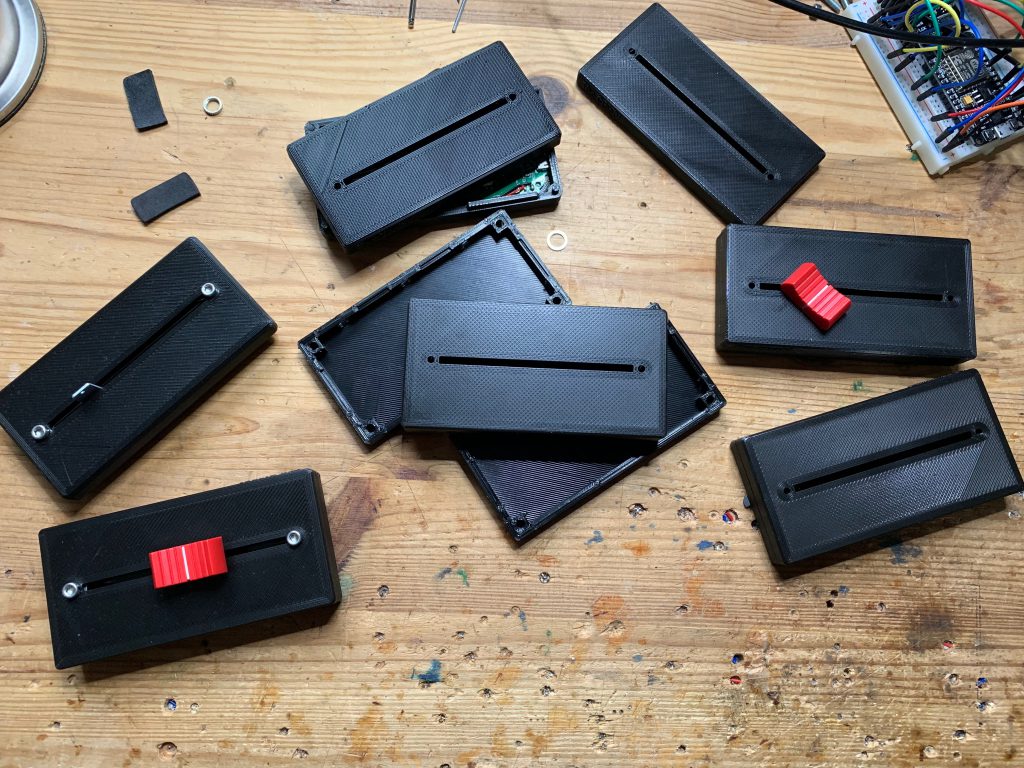 Feedback is key for me to ensure that future versions of the clash meets your requirements. If you have any feedback or a story about you and The Clash, please feel free to drop me a mail.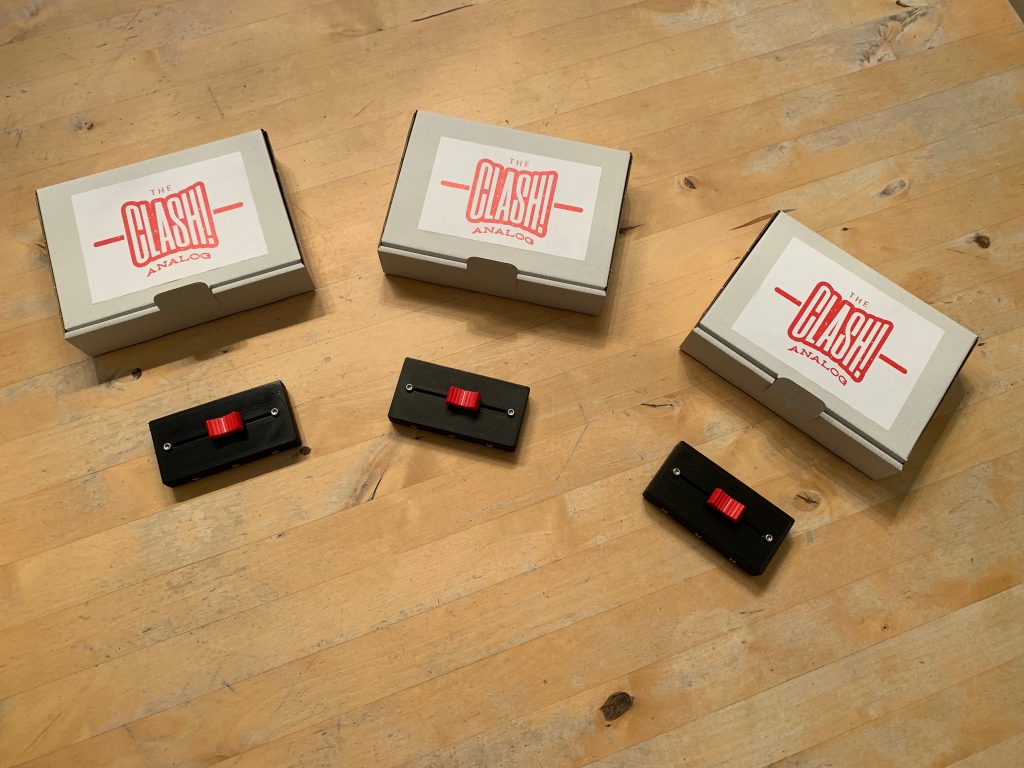 The Clash is made in Germany and is very robust. However, please ensure that you don´t expose The Clash to sunlight. Since I am using a bio-degradable material for the case, it is a bit sensitive to hot temperature. Treat The Clash like your mobile and your are on the safe side.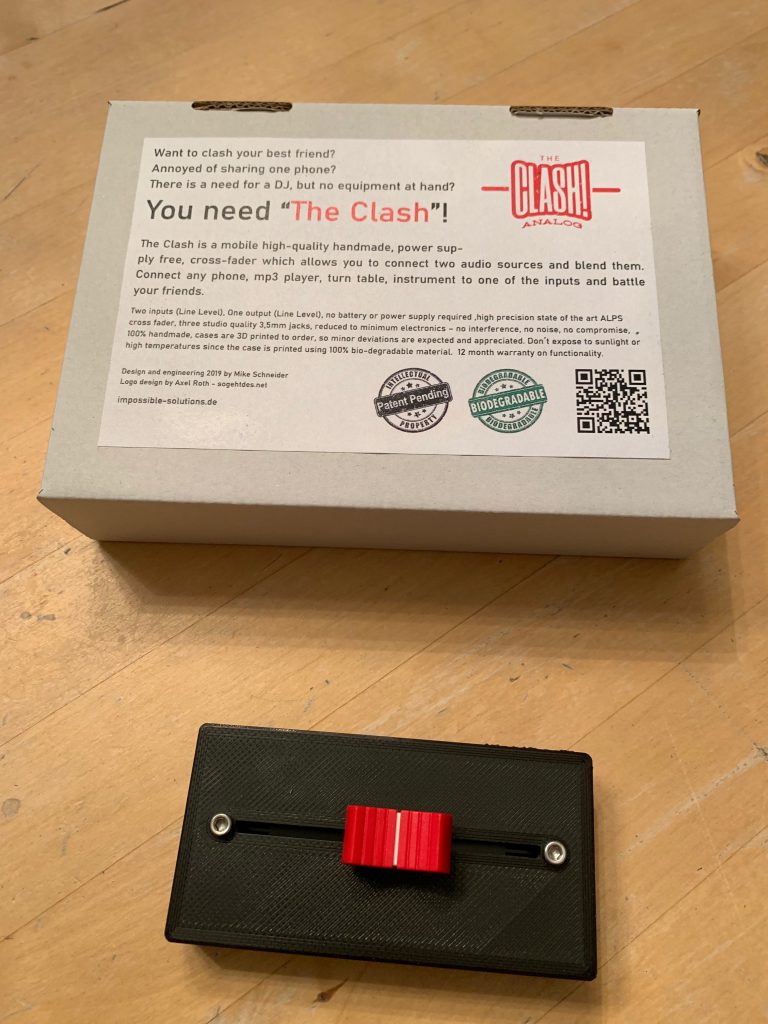 I am sure you know already what to do with The Clash, however here are some areas of operation, advised by other Clash users:
Wedding: Have a Clash available so that guests can play their songs and Clash with others
Car: Attach the Clash to the AUX input of your Cars stereo and let the Backrow be DJs
Friends: Classic Clashing by sharing the latest tunes using your own playlist
DJ: A tablet and a mobile is all you need to gear up any ad hoc party
Home: Connect your PC and your mobile to The Clash and enjoy music while gaming