Finland called, we answered…
Finland called, we answered…
I was asked to write some not so typical answers to the questions we got from the Baltic Snow Call during the application phase. It is really the truth that I was not thinking that Lothar sends this to the committee. To cut a long story short, he did!
TEAM GERMANY – BLACK FOREST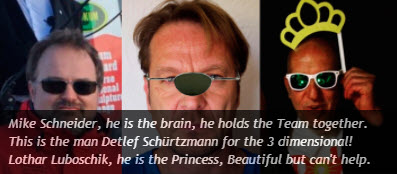 At least I (Mike) was not responsible for the picture above 🙂
Introduction
Tell us about your team; who are you and where do you come from?
Team Black Forest is a mixed team of artists with broad experience in landscaping, music, light art and snow sculpting. We live in the very south-west of Germany at the border to France and Switzerland. Our sculptures are inspired by the beautiful Black Forest, the proximity to France, Switzerland and Italy. These cultural influences are reflected in our sculptures and as soon as we see 25 tons of compressed snow we are going in for the kill and do it for the thrill!
Team History
How long have you worked together? What are your team's greatest achievements?
Team Black Forest work togehter as a snow sculpting team since more than 14 years. Beside the core team there are always handpicked friends joining in to ensure diversity and provide the most exciting sculptures for international competitions. Team Black Forest was 1st place in Lake Tahoe, USA and just 7 days later 1st place in Nayoro, Japan. On top of that Team Black Forest built the world-wide first interactive snow sculpture in Whitehorse, Canada 2016.
About Snow Sculpting
How did you end up carving snow and what is best in snow sculpting?
In the Black Forest it can happen that you are not able to leave your village because of snow blocking the streets. If we have had enough of repairing cuckoo clocks and swinging our balls we started getting creative. After building many snowmen we figured out that we are destined for greater things. Snow-sculpting is for us the transformation of cold and pain into team spirit and from there to the great satisfaction called a snow sculpture.
Baltic Snow Call?!
What do you expect from Baltic Snow Call?
Our dream is to sit with the Finnish Hockey Team Leijonat in a Sauna, listening to the Leningrad Cowboys and drink some of the nice Salmiakki to celebrate 100 years of Finland.
More info
Facebook: Team Germany-Black Forest